About

Acharya Ramesh Babu
Family History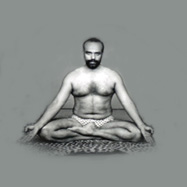 He hails from a well known family in Kerala, India. His father - Yogacharya Late Sree Bhaskaran Gurukkal was a famous person in the field of yoga and Traditional medicines(Ayurveda, Siddha Vaidya, Yogic treatment & Marma Chikitsa, etc) and was vastly experienced. He acquired this knowledge from his well known uncle. This pedigree has helped Shri. Ramesh Babu a lot in order to gain knowledge in this field and is continuing this system along with his own experimentation which has proved to be fruitful. His father was awarded in 1962, by then Governor of Kerala Mr. V.V. Giri for his valuable contributions. His father passed away at the age of 90 while he was actively running a Yoga Chikilsa Center. His father was blessed by the divine Guru Sri Suryanarayana Swamiji, who attained Samadhi at the age of 135. They have built an Ashram in his name. Acharya Ramesh Babu's mother was a very pious lady who attained eternity in 1968. His family comprises of his 3 sisters and himself. His wife is a graduate in Psychology and they have 2 sons, one who has done MBA and is presently working abroad and second son, who is holding Bachelors degree in Ayurvedic Medicine and Surgery( BAMS ) Bangalore.
about his Gurus

An avadhoot (also spelled Avadhut) is a mystic who has risen above body-consciousness, duality, and worldly concerns. One who is free from the consciousness of the ego, roaming free like a child over the face of the earth. An Avadhut does not identify with the body, mind or emotions. Such a person is said to be pure consciousness in human form.
"Avadhoot", is a hyper state of mind when just before getting the final renunciation. The disciple has done lot of sadhana and followed a tedious and difficult path of spiritualism. He now is aware of the existence of His Param Dhyeya Parameshwar. He is living with Him and hence become like a child for all others. His innocence is seen through his acts, he is unaware of the present world but he is not a child.
All Avadooths can be classified as saints, but all saints cannot be classified as Avadooths.
Sree Suryanarayana Guru was a perfect example of an Avadooth. Guru kripa showered on us by the Avadooth is the vital force behind Yogasuthra. But for his kripa this would not have been possible. Not much details about the Guru was available. However, based on the limited knowledge, it was told that the Sree Suryanarayana was born in the Udupi district of Karnataka state and he had the divinity at birth itself. He got the revelation at Udupi Sree Krishna temple. The Guru spent his last days at Karakkad near Vadakara and precisely during that time Acharya Ramesh Babu's father- Acharya Bhaskaran Gurikkal came to the care and received the blessings of Avadooth Suryanarayana. The sole rights to perform all the kriyas during the samadhi was delegated only to Acharya Bhaskaran gurukkal by the Guru. Acharya Ramesh Babu stood witness to all these events.
Avadooth Suryanarayana had his Paripoorna Samadhi on November 23rd 1964 at Karakkad. The miracles he had exhibited were plenty but not published or documented. After the Samadhi, leading Malayalam Dailies such as Mathrubhoomi and Malayala Manorama made a few mentions about the Astha Siddhi miracles of the Avadooth. One such article mentioned about the jack fruit tree the Guru planted around 22 years prior to his Samadhi. It was underneath the same tree that the Guru breathed his last. People and devotees who gathered were astonished to see water dripping from all the leaves of the tree; an indication that the tree was expressing pain and sorrow on losing the Guru. Thousands of devotees still throng the place every year where the Samadhi is laid.
After 40 years of Samadhi, an ardent devotee wrote a book on the life of the Swami. The book may be referred to and is titled "Suryanarayana Swamigal".
About Acharya Ramesh Babu

He was born in 1952 in Tellichery, Kerala, India – a town famous for spices, practice of traditional medicine and also home of Martial arts and Circus. He started doing Yoga at the age of six and trained in all asanas from 1958-1976 and has completed all the prescribed courses under the guidance of his father. Attaining so many years of experience, he had an opportunity to teach and treat patients through Yoga therapy. He has work experience in UAE(13 years) and USA (1.5 years) before visiting the UK. In the UAE, he was running a yoga institute by the name 'Yogasuthra' and in the USA he was working as a yoga guru for a non-profitable organisation called 'Geetha Mandalam'. He has helped a lot of people including his friends and relatives, to relive stress through breathing exercises and Pranayama (a scientific method of breathing that helps in keeping the body and mind fit and relaxed). He has had an opportunity to organise several health camps to extend yoga training and treatment to the ailing persons without any monetary benefits and as part of Charity. He also had an opportunity to expose his talent in a television documentary in India. He follows the method of Yogasuthra to treat his patients.