News & Events
August 1 - 15 2015| Magazine report - Download

May 1/2015| Ayurveda Pundit Acharya Ramesh treats patients without medicine - canaranews.com

May 1/2015| Ayurveda Pundit Acharya Ramesh treats patients without medicine - mangalorean.com
Welcome

to Yogasuthra

Yogasuthra is a time tested methodology used from many generations using Yoga to solve problems from diseases, their prevention and cure. It combines with 'Siddha vaidya, 'Naturopathy', 'Ayurveda' and 'Marma Chikilsa' which is a traditional system for treatment of skeleto muscular and neuro disorders.

Get in touch

with us

Mob : +91 9961537668 (Kerala)
&nbsp &nbsp &nbsp &nbsp&nbsp&nbsp+91 8921147586 (Kerala)
&nbsp &nbsp &nbsp &nbsp&nbsp&nbsp+91 9972662166 (Karnataka)

Email : suthrayoga@gmail.com
About

The Founder
He was born in 1952 in Tellichery, Kerala, India – a town famous for spices, practice of traditional of
Martial arts and Circus. He started doing Yoga at the age of six...
It was a pleasure meeting you when you were here last in the UK and I learnt quite a lot about yoga and Holistic medicine. I was surprised by the depth of knowledge that you have on all forms of alternative medicine...Mr. A.R. Babu
Our

Packages
Ask us to make a program for your specific health need! - Email us at suthrayoga@gmail.com your details along with your phone number with country code and we will get back to you.
Accomplishments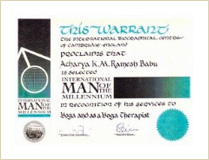 Certificate from International Biographical Centre of Cambridge United Kingdom as the International Man of the Millennium.